Sky Lane Nabs Several Nominations for International Design & Architecture Awards
Posted on Tuesday, November 12, 2019.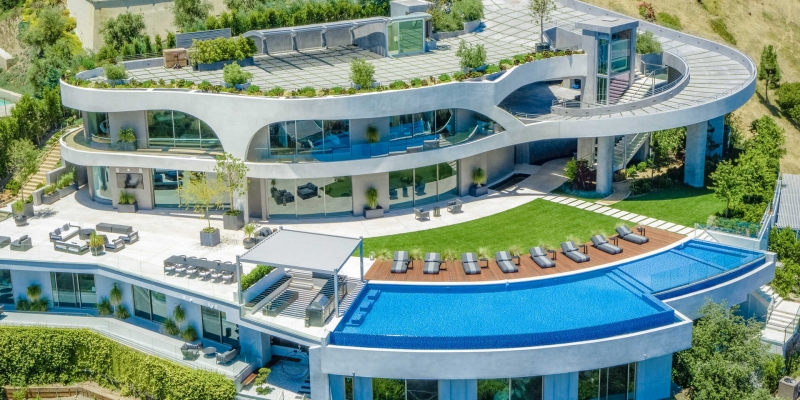 The prestigious International Design & Architecture Awards has shortlisted de Loren & Associates for three awards for the remarkable 12255 Sky Lane—Residential Property 20 Million Plus Award, the Luxury Residence Global Award and the Residential Swimming Pool Award.

Now in its 11th year, the awards—which are hosted by United Kingdom-based interior design publication, Et Al Magazine—offer a number of different categories covering residential architecture, interior design and product design. Only 16 projects are shortlisted per category.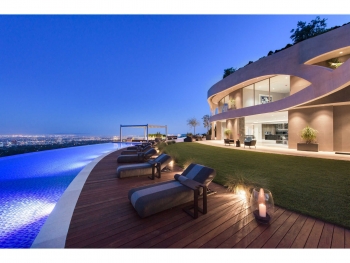 Located in the scenic hills of Brentwood in West Los Angeles and designed by Los Angeles-based de Loren firm, the $36 million estate (currently listed by Santiago Arana and Mauricio Umansky) captured the eye of the judges with its uniquely curved design which is reminiscent of ocean waves, mathematical forms found in nature and the iconic Fibonacci spiral. Its form follows the natural curvature of the hillside and creates a fluid silhouette that is at once elegant and organic—the entire residence exudes a feeling of dynamic movement.

At an event over the summer, architectural designer Sanam de Loren spoke about the inspiration behind Sky Lane's inimitable form. "I envision homes that transcend spatial limitations by offering a true feeling of physical openness and emotional peace," said de Loren. "In addition, the careful selection of specific green building materials, the crucial orientation of the structure in regard to the sun and its natural surrounding elements, the key interconnections and locations of all interior spaces, and the use of cutting-edge wellness technologies are just a few of the fundamental elements that make Sky Lane and other de Loren homes outstanding works of fine architectural design and craftsmanship."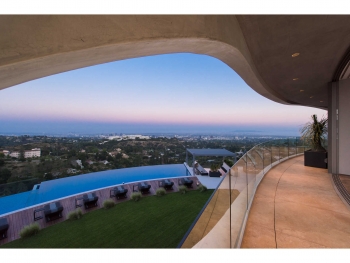 The masterfully imagined three-level estate also boasts a custom piece of Toshi Kawabata functional artwork designed specifically for the home, an eye-catching live green wall at the entrance, a 650-bottle wine cellar, 13-seat theater, gym, sauna, a trio of custom-designed bars, a professional Gaggenau kitchen and a dynamically curving, 75-foot infinity pool, which wraps around the estate's terrace and is equipped with a Jacuzzi, Baja shelf and a swim-up bar.

See the full list of award nominees here. The award winners will be announced in the new year, and a ceremony will be held on September 18, 2020 at the Grosvenor House Hotel, Mayfair, London.