Blue Skies Ahead: Pantone Reveals Color of the Year for 2020
Posted on Monday, December 30, 2019.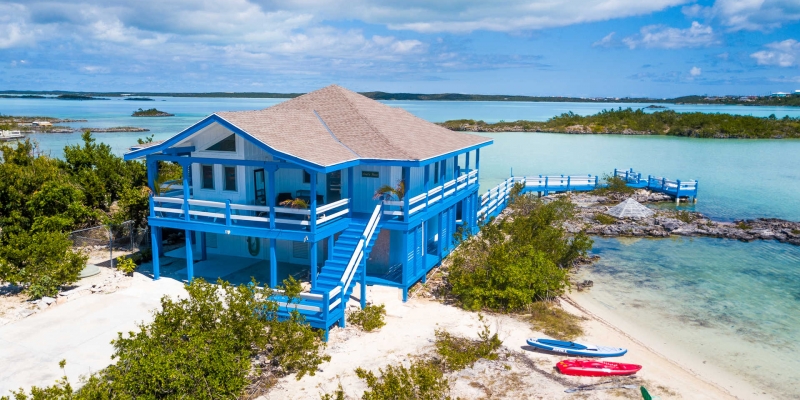 Need of some fresh inspiration for home decor in the New Year? Look no further. The Pantone Color Institute—a consulting service within Pantone that forecasts global color trends—recently revealed its 2020 Color Of The Year as Classic Blue (19-4052), a rich indigo shade reminiscent of an evening sky.

The hue is a striking contrast to 2019's bright coral, which made its way into throw pillows, furniture, wall coverings and home appliances over the last 12 months. Classic Blue echoes the first-ever Pantone Color of the Year, Cerulean Blue, which was selected in 1999, during a time of great anticipation (the New Millennium was arriving) and concerned curiosity (Y2K). Experts at Pantone note that the start of a new decade, 2020, evokes many of these same emotions, making it an ideal moment to call upon a color that communicates mystery as well as familiarity.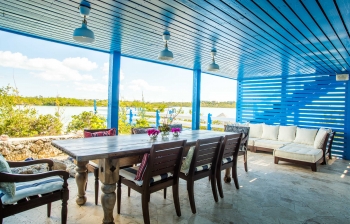 "We are living in a time that requires trust and faith," Leatrice Eiseman, executive director of the Pantone Color Institute, noted in that same release. "Classic blue is a solid and dependable blue hue we can always rely on."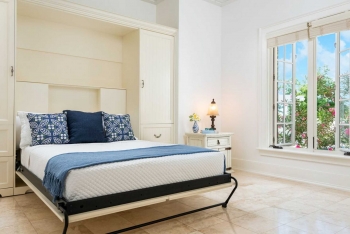 Take inspiration from the interiors of 497 Chalk Sound Road in Providenciales, which are filled with blue-hued touches, from its exterior decks to interior accent walls. Blue Mountain Villa (also in Providenciales) brings deep blues into the bedrooms via throw pillows and blankets. In Los Cabos, Villa Stela Maris frames its deep blue pool with matching lounge chairs, while 366 N. Kilkea in Los Angeles boasts touches of blue in the kitchen, bath and living room. 1622 Viewmont Drive off the Sunset Strip sparkles with deep blue elements with the master bath's gold-accented vanity, not to mention the estate's stunning blue infinity pool. 3223 Larissa Drive in Silverlake is outfitted with a color-coded library wall, a vibrant multi-hued outdoor tile patio and chic blue-hued artwork.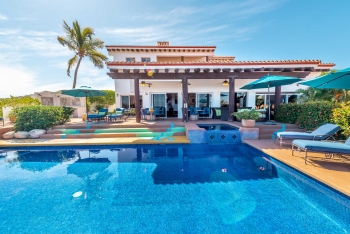 Bring the deeply-saturated color into your own home via accent candles, vases, accent walls, sitting chairs and area rugs. When paired with crisp white (in bedding or in dishware, for example) the tone is sharply elegant but can be made more approachable when applied to soft textiles, like pillows and throw blankets,
No matter its application, Classic Blue promises to set a bold tone for all of 2020.

"Instilling calm, confidence, and connection, this enduring blue hue highlights our desire for a dependable and stable foundation on which to build as we cross the threshold into a new era," reads a statement on the company website introducing Classic Blue. "As technology continues to race ahead of the human ability to process it all, it is easy to understand why we gravitate to colors that are honest and offer the promise of protection. Non-aggressive and easily relatable, the trusted PANTONE 19-4052 Classic Blue lends itself to relaxed interaction. Associated with the return of another day, this universal favorite is comfortably embraced."
Tags