Posted  on  7

May

From hip dives to world-class concert venues, Orange County is home to some of the country's premier live music destinations. Here's a look at some of The Agency's favorites.


FIVEPOINT AMPHITHEATRE - Built in 2017 on the site of the former Irvine Meadows Amphitheatre, this 12,000-capacity, open-air amphitheatre bordering Irvine's Great Park is the OC's definitive, go-to concert venue. In addition to a calendar jam-packed with top talent (upcoming concerts include Zac Brown Band, Morrissey and Santana), the Live Nation-backed venue offers an elevated spin on traditional concert concessions; fans can indulge in everything from Cassell's burgers to contemporary Korean cuisine from award-winning chef Chris Oh's Hanjip Korean BBQ before a show.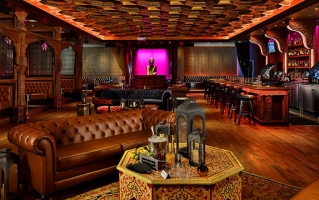 FOUNDATION ROOM - If you're the type that prefers to hangout in the green room between sets (and let's face it, who doesn't?) you'll love the Foundation Room at House of Blues Anaheim. The luxe VIP lounge serves as the ultimate members-only hangout, with elegant Morroccan-inspired interiors and its own calendar of exclusive events and showcases designed for the elite concertgoer.


OBSERVATORY OC - Catering to the indie rock set, The Observatory and the venue's more intimate counterpart, the Constellation Room, are among the hippest venues in Orange County. The smaller, more alt-leaning Constellation Room is known as the space to catch "the next big thing," offering a free monthly residency with a buzzing band and revolving lineup of supporting acts that has launched the careers of more than a few indie rock darlings.


THE COACH HOUSE - This beloved, all-ages dinner and concert venue in San Juan Capistrano has played host to the likes of B.B. King, Bonnie Raitt, Chris Isaak and Tori Amos. Equal parts a springboard for up-and-coming artists and playground for established industry veterans, the 500-capacity room looks as good as it sounds.


THE WAYFARER - Formerly known as The Detroit Bar, this hip, 300-capacity dive in a nondescript Costa Mesa shopping center highlights up-and-coming local talent from a variety of genres. Back in its Detroit Bar days, national artists like Stereolab, Modest Mouse, Yeah Yeah Yeahs and the Raveonettes graced the modest stage, and mainstream local bands like Cold War Kids and Foster the People honed their acts before graduating to bigger venues around the country. The venue also hosts a popular, free monthly Monday night residency with an emphasis on top local talent.